The Flex Turbine® is the most reliable small gas turbine generator with proven high up time in harsh environmental conditions. The Flex Turbine offers best in class fuel tolerance, reliability and emissions. It provides high energy efficiency, up to 85% total, in a compact package for grid connected CHP projects. It is a great fit for prime power and with multiple units paralleled to start and run high horsepower grid independent loads. The Flex Turbine core engine is the most advanced in the industry with variable inlet guide vanes to ensure high efficiency and low emissions even when systems are running at part power.
The Flex Turbine was adapted from the Dresser Rand KG2 by Ingersoll Rand in the early 2000's. Now matured and deployed by FlexEnergy and Flex Leasing Power and Service, its performance has been proven over a decade of operations on a wide range of gases and varied environmental conditions in North America, Europe, Latin America and Asia.
Fuel Tolerance
Wide Acceptable Gas Range; ~300 Btu/scf to ~2500 Btu/scf
Sour Gas tolerant; up to 6,500 ppmv H2S
Acid Gas tolerant; up to 70% CO2
Low Supply Pressure Gas; Internal Gas Booster option
Efficiency and Emissions High Performance
High Efficiency CHP: Up to 85% total with internal cogeneration heat exchanger
Synchronous Generator: Single unit starts up to 125+ HP load Direct On Line (DOL)
Cyclical load control: Integrated controls with Generator Braking Resistor
Automatic paralleling and synchronizing: Multiply units paralleled for operating high horsepower loads
Low exhaust emissions; Certified to California Natural Gas Distributed Generation Standard
Environmental Benefit
Avoids flaring: Flex Turbine® reliably generates using collected flare gas and vent gas
Eliminates diesel usage: Site gas used for power. Diesel fuel no longer needed
Clean air: Meets most stringent state and federal requirements for air permitting
Low sound:
GHG Reduction: Facility CO2 footprint reduced with Flex Turbine® CHP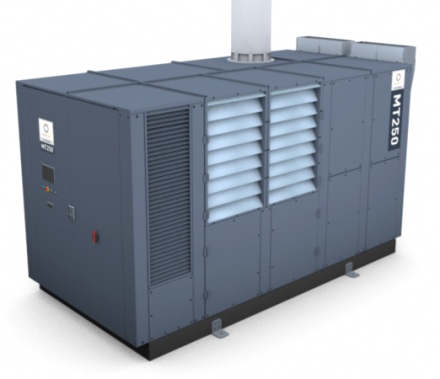 Value Proposition
Commercial and industrial facility energy cost reduced with efficient Flex Turbine® CHP and CCHP
Simpler permitting and cleaner air with 10 times lower emissions than typical natural gas-fired or diesel-fired engine generator
Long life industrial package with proven lubricated bearing design widely used in mission critical and utility grade gas turbines
Safe, Quiet operation for noise sensitive city installaitons and unmanned locations
Significant fuel savings by eliminating diesel fuel delivery and usage for remote prime power
Highest reliability of power with runtime availability of ~99% and only one planned maintenance per year.